How to View the Screen
This section describes the "Portal" screen.
"Portal" Screen
This is a portal created by the system administrator or a user.
If you have more than one portal, you can switch them using the tabs.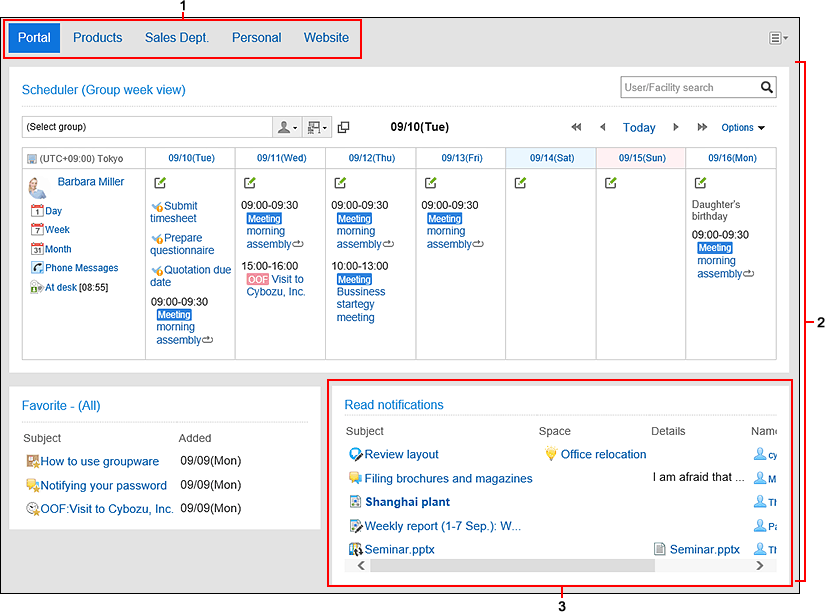 Number
Description
1
Tab to toggle Portals:
This is displayed when multiple portals exist.
You can switch between portals.
2
Portal:
This page summarizes applications and functions often used in Garoon.
3
Portlet:
The items placed in the portal.
You can change the portlet to be placed so that users can customize it to meet their requirement.
My Portal Details Screen
On the screen for My Portal details, you can configure My Portal.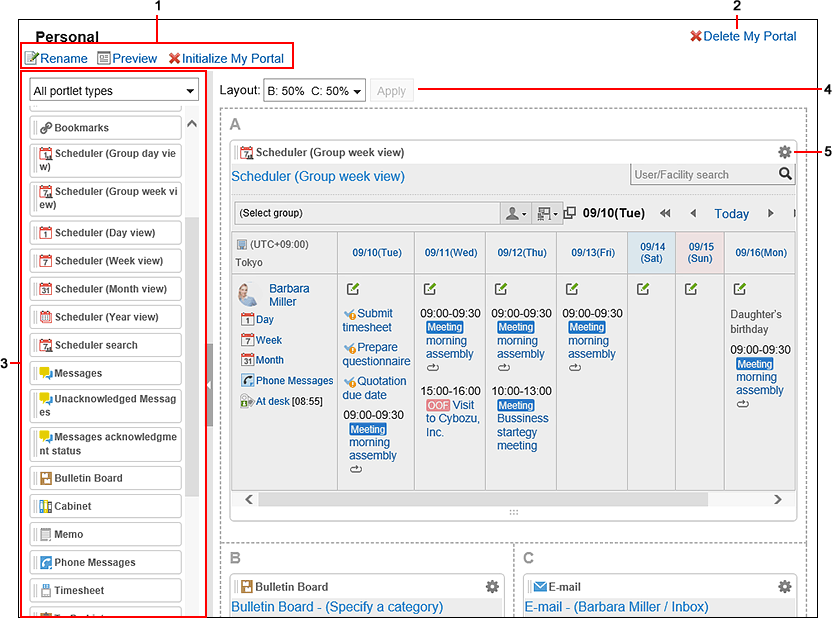 Number
Description
1

Link to change My Portal name:
Change the display name of My Portal.
Preview Link:
The screen to confirm views is displayed and you can view the My Portal preview.
Link to initialize My Portal:
Delete all portlets placed in the My Portal.
Depending on your system administrator settings, initializing the My Portal may leave some portlets.

2
Link to delete My Portal:
Delete My Portals.
3
Portlet:

Filter for portlet list:
Filter the portlets you want to display in the Portlet list.
You can filter by application, the My Portlet group, or the Portlet group set by your system administrator.
Portlet list:
The list of portlets that can be placed in My Portal.
The portlet can be placed by drag and drop.

4
Layout:
Set the layout of the My Portal screen.
5
Icon
For each portlet, the following menus are displayed

Link to change the display name:
Enter new display name of portlet. This menu does not appear in the following portlets.

Application Menu portlet
Notices portlet
Calendars portlet
Quick Send portlet
My Portlet (HTML portlet)

"Settings" Link:
You can configure portlets. This menu does not appear in the following portlets.

Quick Send portlet
Schedule Search Portlets
Timesheet Portlets
Address Book Search Portlets
Presence Information Portlets
My Portlet (HTML portlet)

The setting items can be differ depending on the type of portlet.
"Delete" Link:
You can delete portlets from My Portal.