How to View the Top Page
This section describes how to view the top page and the header.
The header is displayed on every screen in Garoon.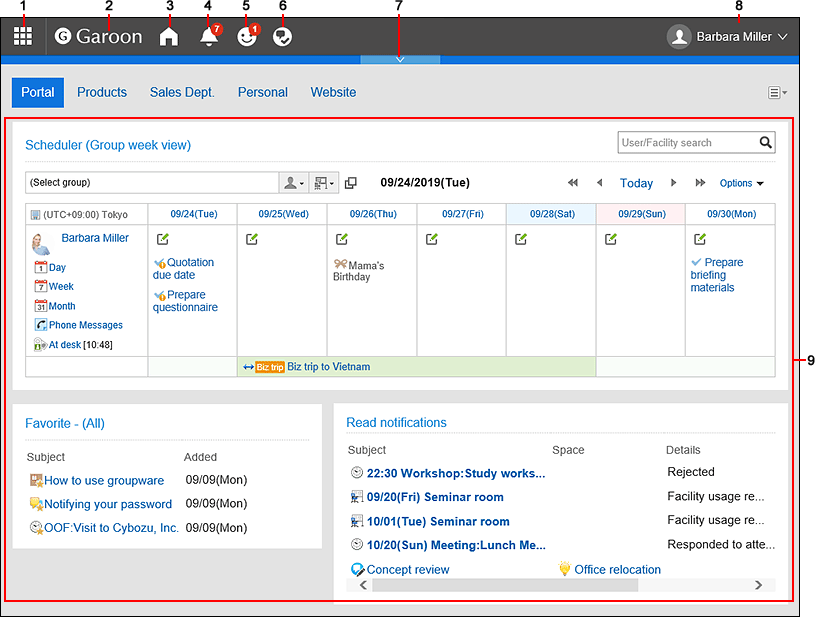 Depending on your system administrator settings and personal settings, the items that are displayed may be different.
Number
Description
1
Apps:
Displays the application menu in a drop-down list.
2
Logo:
Your system administrator can configure any logos.
For details, see Changing Customer Information and Logos.
3
Top:
Displays the top page of Garoon.
4
Latest Information:
When clicked, notifications for each application are listed in the drop-down list.
The number that is displayed in the icon is the number of all unread notifications. Not only notifications are categorized by unread and read, but also "All" and "@ To me" tabs can be used to filter notifications.

In the "@ To me" tab, you can check only the notifications addressed to you. For details, refer to What are the notifications addressed to me?.
Unread notifications other than those from Phone Messages and Workflow can be marked as read by clicking the "Mark as read" button on the right of date/time.
When you click the "Update" button in the upper right corner, the notifications of the current tab is updated.
5
Respond:
Clicking this icon displays a list of the "Like" responses to your comments.
6
My Space:
A list of spaces that you are participating in is displayed.
7
Opening and Closing buttons for menus:
You can show or hide the application menu by clicking the down arrow and the up arrow buttons.
8
User name:
Links to account settings and personal settings are displayed.

User name link:
The user details screen is displayed.
Edit link:
The "Edit user profile" screen appears.
For details, see the Edit user profile.
"Language & Time Zone" link:
The locale settings screen appears.
For details, see Locale Settings.
Change password link:
The screen for changing passwords appears.
For details, see Change Password.
Design settings link:
The design settings screen appears.
For details, see the page for design settings.
Personal settings link:
The "Personal settings" screen is displayed.
On the "Personal settings" screen, a user-configurable menu is displayed.

9
Portal:
The portal created by the system administrator or by users.
For details on the user icons on the top page, refer to User icons.
Application Icons and Default Values
Depending on the system administrator settings, or the language that is used by users, the application names other than the defaults can be displayed.
The default application names for Garoon are as follows.
| Icon | Default Application Names | Icon | Default Application Names |
| --- | --- | --- | --- |
| | Portal | | Space |
| | Bookmarks | | Scheduler |
| | Messages | | Bulletin Board |
| | Cabinet | | Memo |
| | Phone Messages | | Timesheet |
| | To-Do List | | Address Book |
| | E-mail | | Workflow |
| | MultiReport | | Presence indicators |
| | Favorite | | Like |
| | Notifications |   |   |