How to View the Screen
This section describes icons and buttons that are displayed on the "Favorites" screen.
Favorites Screen
Displays a list of pages that you have added to your favorites.
You can filter by application.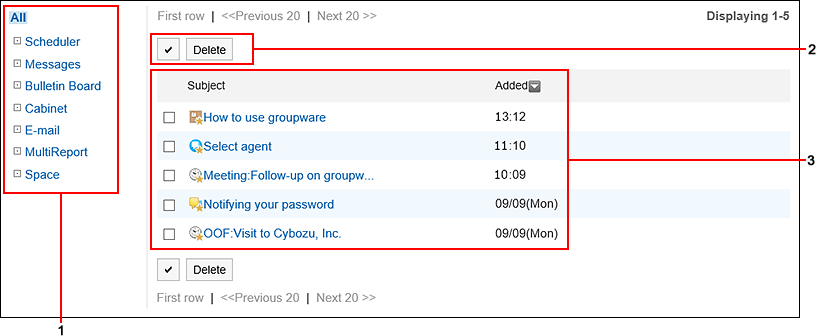 Number
Description
1
Favorite Categories:
Filter pages by application.
The category cannot be deleted or changed.
2

Button for selecting check boxes:
Click to select all check boxes. The check boxes are deselected when you click it again.
"Delete" Button:
Removes a page with a check box selected from the Favorites.

3
List of added pages in Favorites:
The date and time that you added to the favorites are displayed in the new order.
When you click the link of a title, the page details screen is displayed.
| Icon | Description |
| --- | --- |
| | Pages you can add to Favorites |
| | Pages added to Favorites |
| | Appointments added to Favorites |
| | Messages added to Favorites |
| | Topics added to Favorites |
| | Files added to Favorites |
| | E-mail added to Favorites |
| | Added space to Favorites |
| | Multireport Added to Favorites |