Adding Filters
Add filters by category.
Filters cannot be moved to other categories.
"(Root)" cannot have filters.
Steps:
Click the Administration menu icon (gear icon) in the header.

Click "System settings".

Select "Application settings" tab.

Click "MultiReport".

Click the filter list.

On the filter list screen, select a category and click an item to add a filter.

On the screen to add filters, set the required items.

Confirm your settings and click "Add".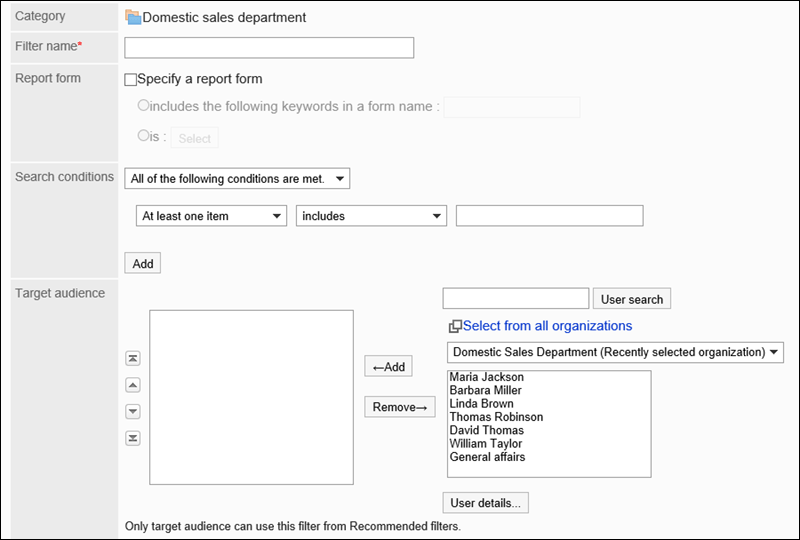 Item
Description
Filter Name
Enter the filter name.
Report Form
Set whether to specify report forms in the report filter.
If you chose to specify this option, select the check box to specify report forms, and then set one of the following conditions:

The form name includes the following:
Filter reports by its report form name containing the text you specify here.
Same as the following:
Click "Select", then filter reports by filter forms you select on the screen to select forms.

Search Conditions
Set conditions to filter reports.

a): To combine conditions
Select one of the following:

All the following conditions are met:
Filters reports that met all the conditions specified.
One of the following conditions is met:
Filters reports that meet one or more of the conditions specified.

b): Items
Select items to use to filter from the following:

One of the following items:
Filters reports that contain report authors, creation dates, and report form items.
Created by
Created on
Items:
If you specify a specific report form, you can select items in the report form.
Comment

c): Conditional expression
Set a expression to use to filter. The conditional expressions that can be set differ depending on the item type.

d): Value
Enter a value to use for comparisons in conditional expressions.

You can add conditions by clicking the item to add conditions.
You can delete one condition at a time by clicking "Delete".
You can delete all conditions that have been set by clicking the item to delete all conditions. The first condition cannot be deleted.
Recommended users
Select the user to show in the recommended filter field on the user screen.